High Speed Steel
Also available TiN Coated
Concave Sides without Side Teeth
Made with a standard keyway. Sides are ground concave to a hub for clearance.
It is recommended that these saws be revolved by a key extending into the collars on both sides.
All Moon Cutter Company products are made in the USA.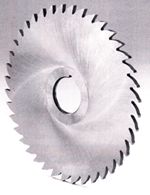 Series PS