Quantity discounts available
Less vibration and better finishes!
T.I.R. 0.0005" (or better) - DIN6499-B
Individual ER32 Collets also available
Our ER collet system is made of special elastic steel material under precise heat treatment and grinding processes yielding a more durable collet with powerful clamping ability. This collet can clamp for a specific standard size and it's next size. It can be widely used for boring, milling, drilling, tapping and more.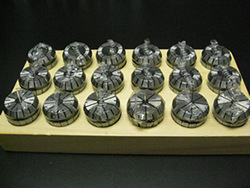 ER32 Collet Set